Scott-Glenn Company, the two-headed company
Our History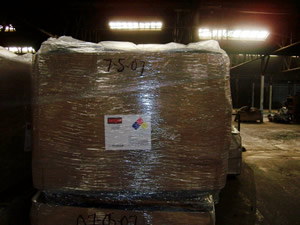 Scott - Glenn Company was started by Wallace W. Hinkle in March 1974, naming the company after his two son's Scott and Glenn.
The two headed logo was designed by a family friend. Glenn, then 11 years old is the profile in front. Scott was 13 years old and his profile is in the rear. Wally, being the clever man that he is, came up with the slogan "Great Scott, Glenn's great, too"! Thank goodness that, with time, Wally saw the light and dropped the slogan.
Scott eventually became a successful real estate developer in Birmingham as Glenn toiled away in college. After graduation, Glenn became a salesman for McWane Ductile Iron Pipe Company and spent seven years selling ductile iron pipe to the water and sewer industry. Wally involved Glenn in the family business in January 1996. Glenn was calling on the steel, foundry, aluminum and power generation industries. During trips to Arkansas, Glenn would pass rice fields and rice mills and knew what a great insulator rice hull ash was and how effective it was at insulating molten steel in the steel industry. After doing research, Glenn approached Riceland Foods about becoming a distributor for them selling their ash to the domestic steel industry. And as they say, the rest is history!
Scott-Glenn Company, LLC, became a distributor for Riceland Foods in 2001 and introduced CharSil™ Rice Hull Ash to the domestic steel industry. Glenn has been building the business one account at a time. Since that time, Scott-Glenn Company has also introduced CharSil™ Rice Hull Ash to the foundry industry. We are currently shipping CharSil™ rice hull ash to the steel and foundry industry throughout the United States.
CharSil™ Rice Hull Ash in an inexpensive, cost effective means for insulating molten metal. CharSil™ Rice Hull Ash is packaged in 5 Kg and 10 Kg heat sealed plastic bags and also 800 pound supersacks.